Description
This is a digital download. Your registration code and instructions will be emailed to you. The code will be available immediately. We do not accept returns on this product, please make sure you have checked your system compatibility before completing the purchase. Feel free to contact us with any questions, we are happy to help.
Uncompromising quality, compliance & creativity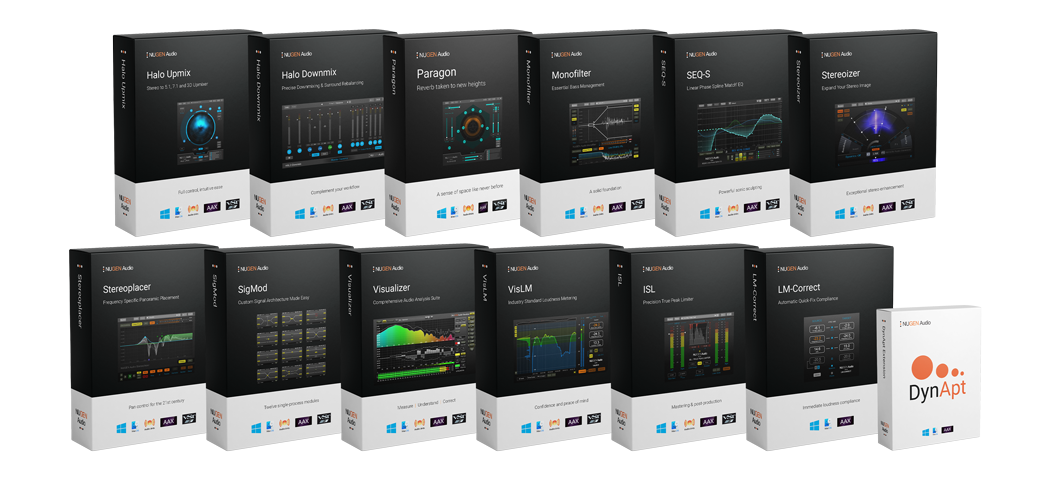 Quality, precision, trust
NUGEN Post is an uncompromising collection of twelve must-have plug-ins for high quality broadcast, film and game audio production. Containing a complete loudness solution including True Peak limiting, leading upmix and downmix tools, a comprehensive audio analysis suite, transparent auto-match EQ, 3 stereo control plug-ins, and state-of-the-art convolution reverb, NUGEN Post delivers the same essential post production tools used by leading facilities the world over.
Audio enhancement and problem-solving tools to help you produce outstanding audio quality on time, every time.
Mono, stereo and surround tools
Instant loudness compliance
Spatial enhancement
3D convolution reverb
Low frequency control
Premium transparent limiting
Detailed audio analysis
Dolby Atmos, Auro 3D and Ambisonic options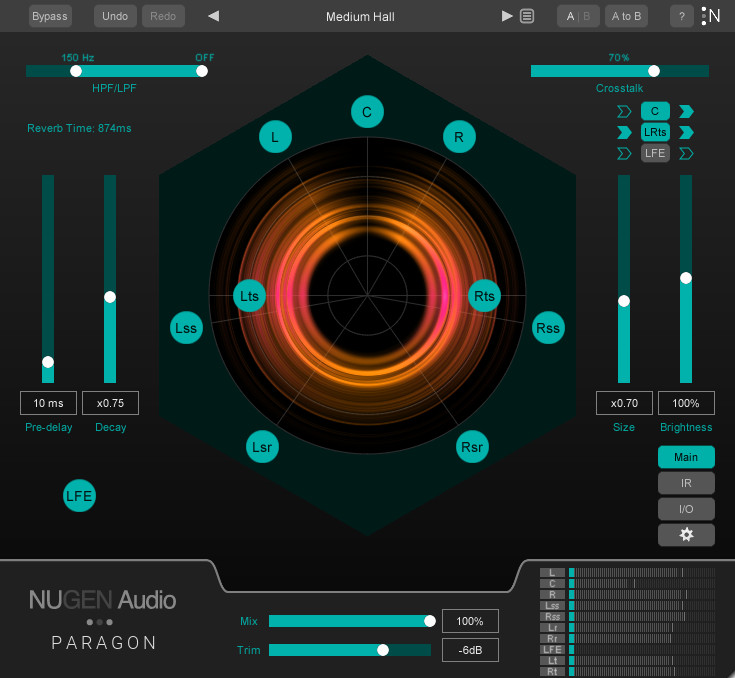 Reverb taken to new heights
Paragon is a true convolution reverb with the flexibility and control of a classic algorithmic reverb, giving you the sound of real spaces, now with unprecedented tweakability. Via re-synthesis, Paragon offers full control of the decay, room size and brightness of reverbs modelled on 3D recordings of real spaces - with no time-stretching, which means no artefacts - not to mention spectral analysis and precise EQ of the Impulse Responses themselves.
 Perfect for surround applications including Dolby Atmos bed tracks, the reverb operates in up to 7.1.2 channels of audio.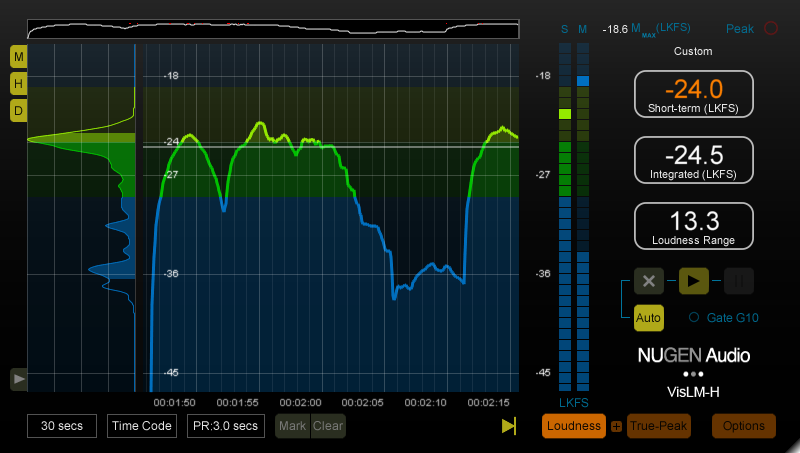 Confidence and peace of mind
Using an industry standard gives you confidence and peace of mind. VisLM delivers everything you need – intuitively, accurately and immediately. With a unique design focused on primary loudness parameters, VisLM combines an instant overview with detailed historical information, enabling you to hit your target first time, every time. Additional loudness logging and time-code functions allow for proof of compliance reporting and postmortem analysis with frame accurate referencing.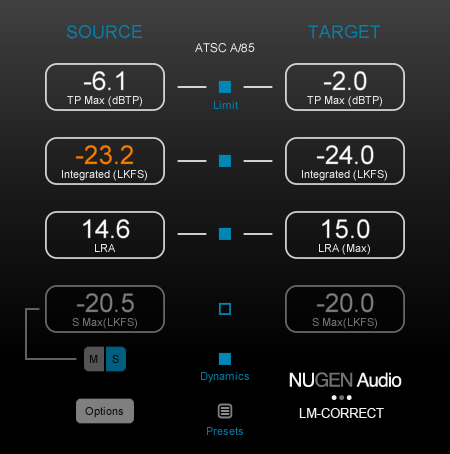 Immediate loudness compliance
Either within your NLE/DAW or as a standalone application, LM-Correct delivers automated compliance with True Peak correction, solving your compliance issues on the spot. Used in conjunction with a real-time meter, LM-Correct saves iterative adjustments to the mix as you approach target levels, allowing transparent in-edit 'quick-touch' finishing of your audio.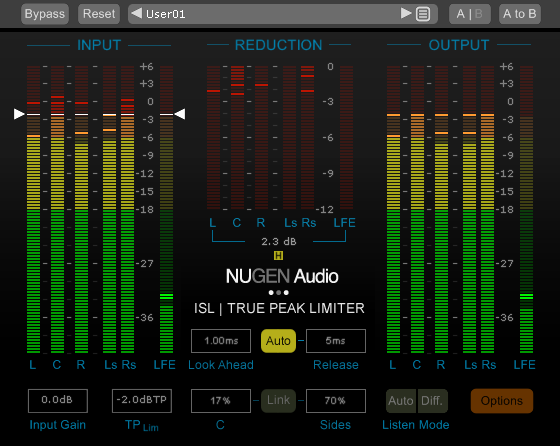 World class, broadcast quality limiting is an essential requirement for any broadcast production, and the latest standards also demand true-peak compliance. ISL delivers both, giving you superb sound with complete confidence when meeting True Peak delivery criteria.
With ITU-R B.S. 1170-4 compliance and a dedicated brick-wall TPlim setting, you can produce with confidence, leaving ISL to transparently take care of the compliance.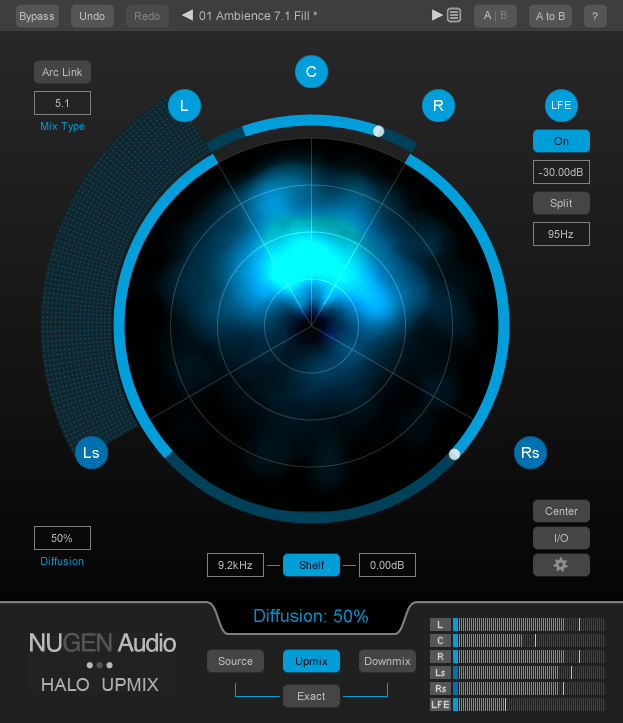 Big sound with intuitive ease
From naturally extracted and expanded soundscapes to full cinematic big-stage enhancement, Halo Upmix delivers all the control you need to fine-tune your surround mix to perfection. With unique centre channel management, including switchable dialog extraction, Halo Upmix is perfect for all types of production from archive restoration and TV through to the full 7.1 feature film experience.
 With surround delivery requirements becoming more and more common, a tool like Halo Upmix can be indispensable. Unlike legacy upmixing practices, Halo Upmix offers full downmix compatibility. For those working in Dolby Atmos, Auro 3D and Ambisonic environments, a 3D immersive audio option is also available.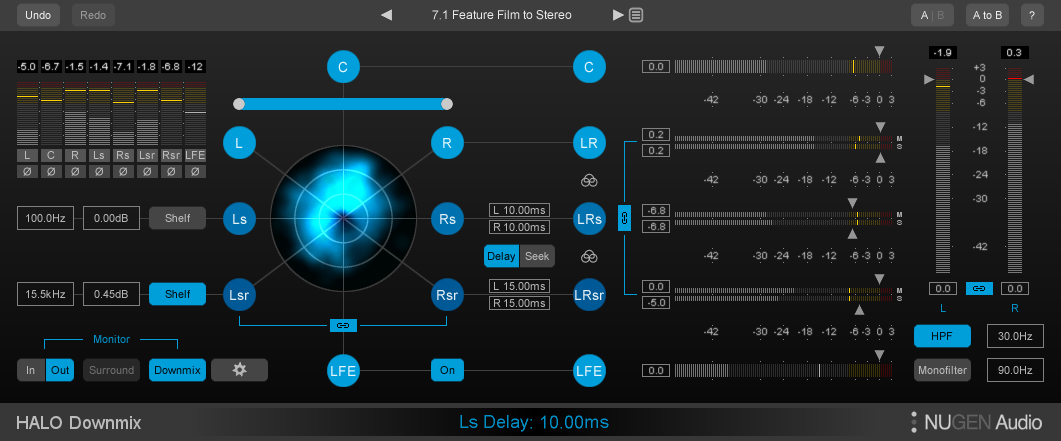 Expert surround-to-stereo

Fine-tune an existing surround mix, make adjustments for a better downmix or rework a downmix for better stereo listening.
Simply using standard downmix coefficients can often lead to unsatisfactory results, particularly if legacy upmix practices were used for the original surround mix. Halo Downmix can quickly mitigate these issues and produce a more coherent stereo mix, for example by controlling excessive diffuse sound from added artificial reverberation, or removing delay artefacts introduced in the rear channels.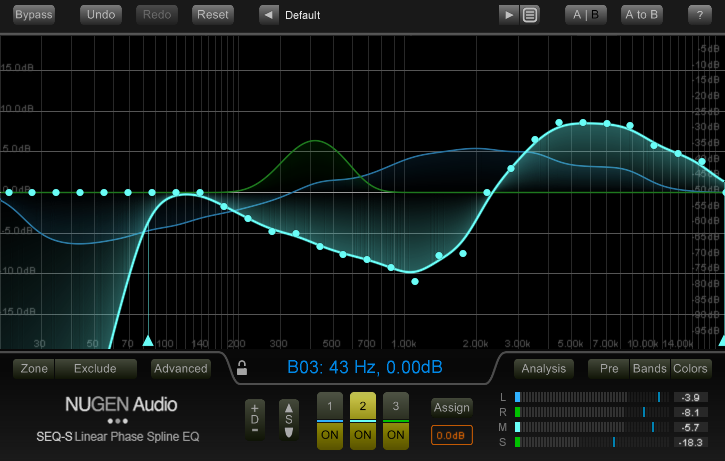 With support for stereo, 5.1 and 7.1 surround, SEQ-S gives complete control over your spatial environment. Flexible nodes and a direct draw interface make specific corrections possible in a way that would be very time consuming using a traditional parametric interface.
 Match 'invert' makes finding space for dialogue in a busy soundtrack quick and easy, avoiding heavy-handed EQ or intrusive ducking.
Try automated EQ morphing for controlled scene transitions and creative sound design possibilities. The morph function uses two EQ memories as the basis for operation, enabling a smooth transition between two states over time.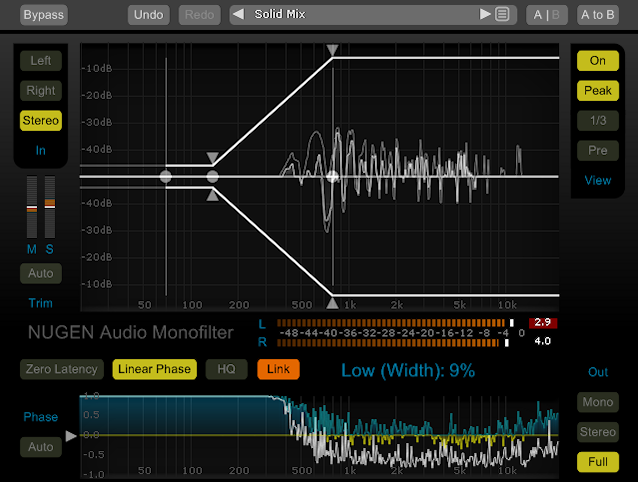 When solid or natural sounding bass is a requirement in your recording projects, Monofilter provides the foundation for real power and definition. Bring transparent solidity to your bass; sharpen, define and align for the tightest mix. Monofilter aids low frequency clarity on any playback system.
 With presets for every situation and intuitive controls for fine tuning to perfection, Monofilter anchors your bass with ease, while retaining the perceived spatial characteristics of the original sound.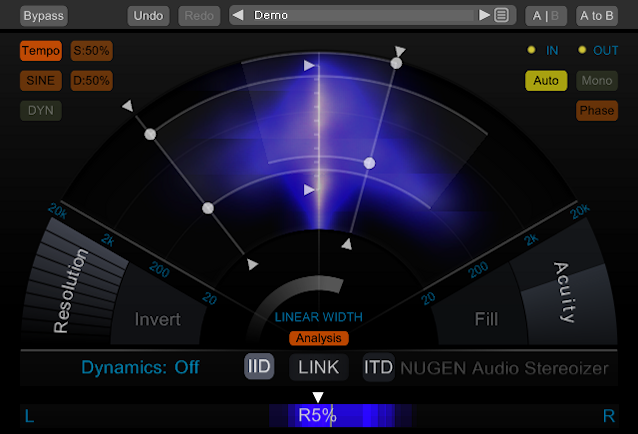 Exceptional stereo enhancement
Stereoizer offers you the full range of stereo image enhancement, from gentle width adjustments to huge dynamic ambiences that transform the soundstage. With visual audio analysis feedback and a clear, logical control layout, Stereoizer is satisfying to use and gives great results with the minimum of effort.
Whether restoring old recordings or optimising new recordings for louder playback, Stereoizer allows for natural-sounding extrapolation of your existing stereo image with neutral stereo expansion and contraction. You can re-balance the stereo field and re-introduce natural ambience which may have been lost during other stages of the production process.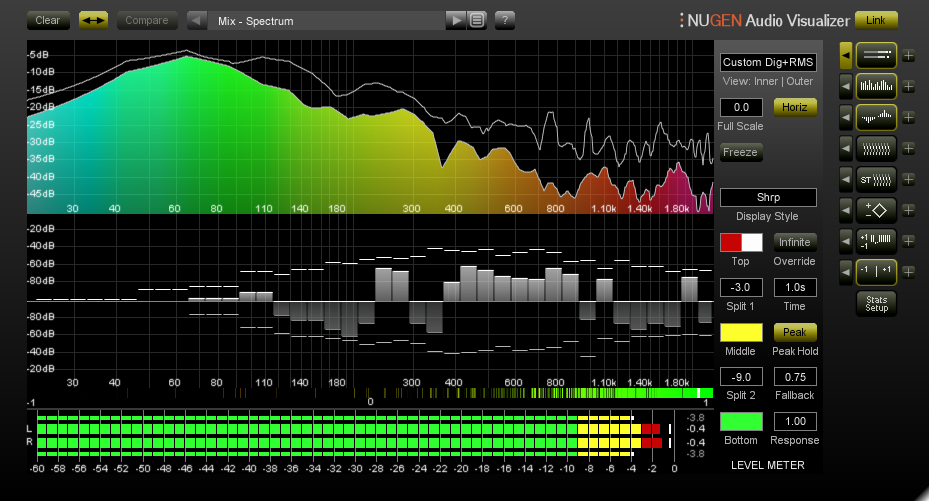 Measure, understand, correct

Visualizer gives you indispensable audio analysis for quality audio production, with a standardised reference set of professional tools which allows you to work faster, avoid mistakes and repeat past success.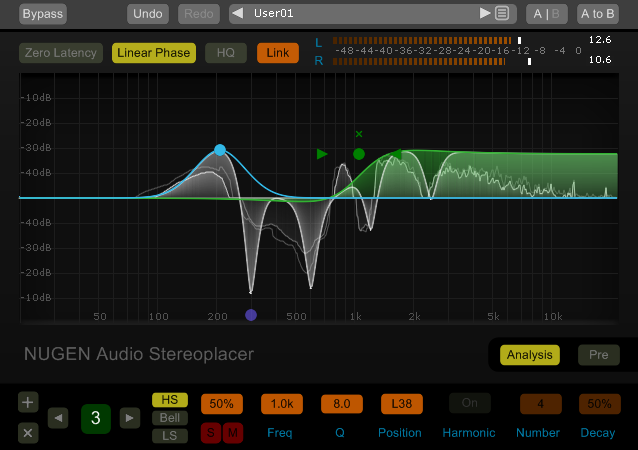 Stereoplacer gives you precise control you just can't get within a traditional mix setup. Choose the frequencies you want to fix and move them anywhere, leaving the rest of the stereo image intact. Make improvements in any area of the sound stage without causing problems elsewhere.
Re-position specific elements or achieve gentle linear phase adjustment of your entire mix. Extrapolate and re-balance poorly positioned instruments whilst leaving the rest of the soundfield intact. You can even add stereo detail to previously mono recordings, leaving the original character intact.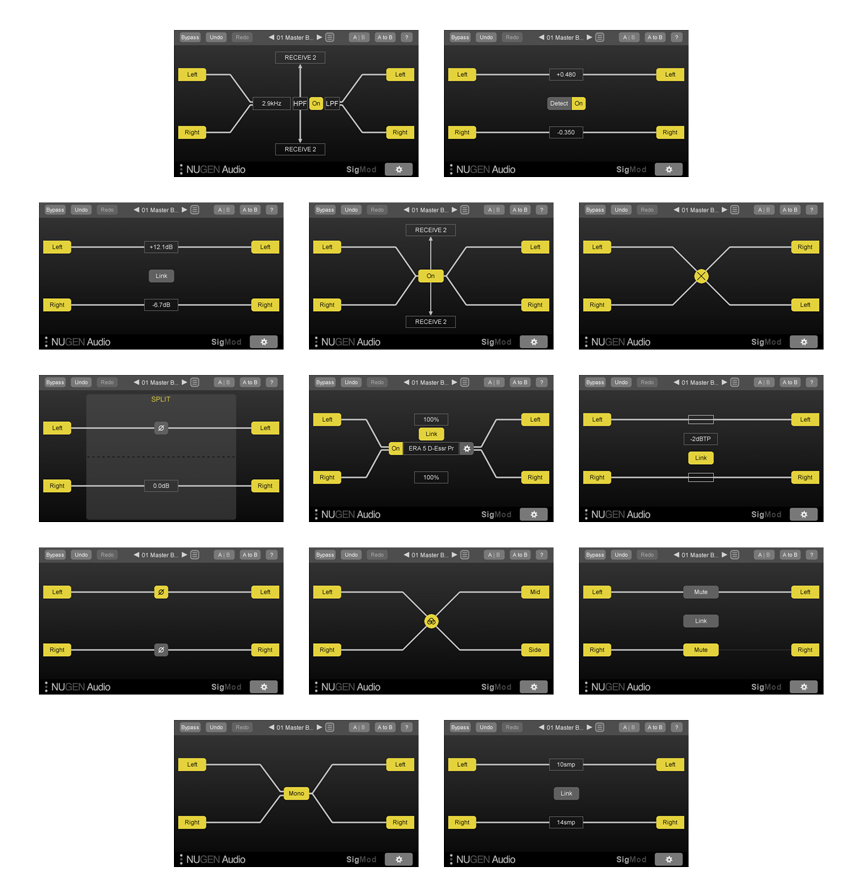 Customise your signal architecture
Instantly enhance the functionality of your plug-ins and DAW with SigMod's thirteen signal modification units. Each module can easily be inserted, swapped and moved around making new options to correct, convert or tweak your audio. Access functionality which is either missing from certain DAWs, or at least complicated to access natively.
Combine these single-process modules in any order to design the precise routing you require. Auto-resizing keeps the signal flow and functionality clear at all times.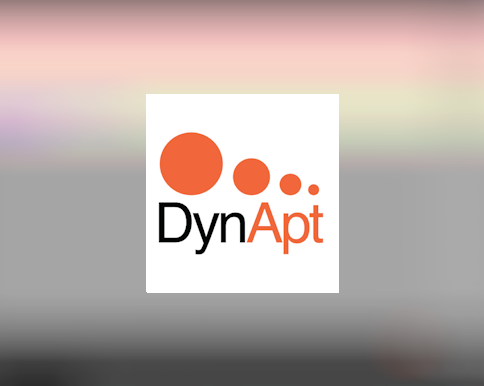 Included with the NUGEN Post bundle is the DynApt Extension for LM-Correct. Powered by technology developed for our server-side solutions, even complex specifications can be met with great sounding algorithms and smooth efficiency. Uniquely, the new DynApt extension also allows immediate correction for LRA and dynamics, whilst preserving dialog intelligibility and correctly identifying and respecting intentional dramatic transitions.
Mix towards compliance without breaking the creative flow, listen to True Peak audio 'in-place', and achieve faster than real-time quick-check-and-fix processing.
Take complete control of your stereo and surround panorama with powerful tools offering incredible flexibility in highly accessible and configurable combinations.
Each plug-in integrates advanced audio analysis feedback directly into the user interface, delivering intuitive control of all the main parameters with clear and immediate dynamic response. NUGEN Post offers you deeper control, sonic enhancement and diagnostic support at any stage of the production process leading to increased quality and efficiency in any project.
Loudness metering
Faster than real-time compliance correction
Ensuring cross-platform compatibility
EQ-matching between sources
Adding space/atmosphere
Mixing for Dolby Atmos and other surround/immersive formats
Stereo-to-surround upmixing
Surround-to-stereo downmixing
Optimising audio for broadcast
Product Specifications
We support AAX, VST3, AU and AudioSuite in 64-bit.
NUGEN Audio is in the process of phasing out some older plug-in formats. Our most recently updated products no longer support 32-bit or RTAS/VST2. 
Minimum System Requirements
Mac OSX 10.9 or above / 512 MB RAM
Windows XP or above / 512 MB RAM
Payment & Security
Your payment information is processed securely. We do not store credit card details nor have access to your credit card information.