Description
This is a digital download. Your registration code and instructions will be emailed to you. The code will be available immediately. We do not accept returns on this product, please make sure you have checked your system compatibility before completing the purchase. Feel free to contact us with any questions, we are happy to help.


Award-winning mix & mastering suite -
now including Paragon ST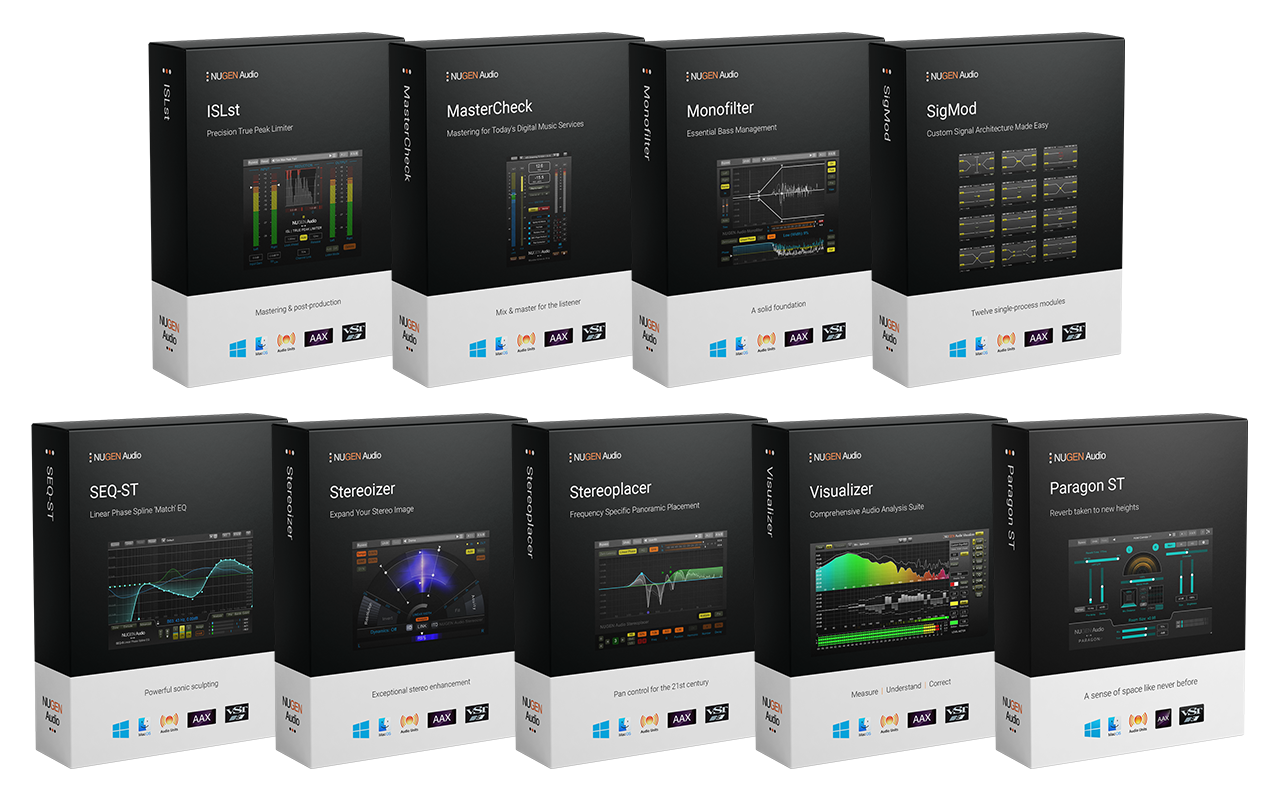 Expand your production toolkit
Nine elite plug-ins giving deeper control over your full production workflow. From reverb, EQ, stereo panorama and low frequency content to mixing and mastering for today's streamed delivery services. With its comprehensive audio analysis suite you can identify and solve a multitude of audio issues.
Ideally suited to both mix and mastering situations, NUGEN Producer offers an unequalled collection of highly flexible award-winning cross-platform plug-ins to help you increase the quality and efficiency of your audio production.
Groundbreaking low frequency control
Mix & master for today's playout technologies
Measure & compare dynamics
Transparent linear phase match EQ
Boundless convolution reverb
Market leading stereo enhancement
Broadcast quality True Peak limiting
Stereo correction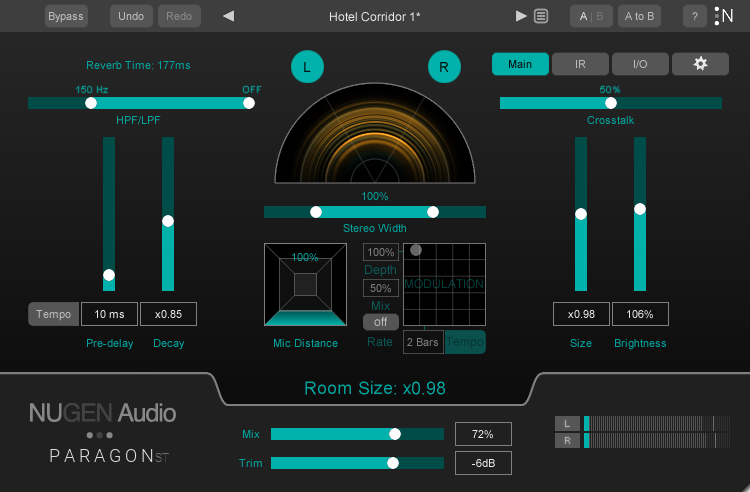 Boundless reverb in stereo
Paragon ST is a true convolution reverb with the flexibility and control of a classic algorithmic reverb. We've used the same reverb technology as the original Paragon and packed it full of new controls for music producers, including modulation, stereo width and more. 
Using state of the art technology developed alongside the University of York's Dr. Jez Wells, Impulse Responses are analyzed, decomposed and re-synthesized to create new authentic spaces.
Whether you're giving natural ambience to drums or vocals recorded in a dead room, or pushing guitars and synths far beyond realistic reverb into something fantastical, Paragon ST's authentic IRs are perfect for adding depth to a mix.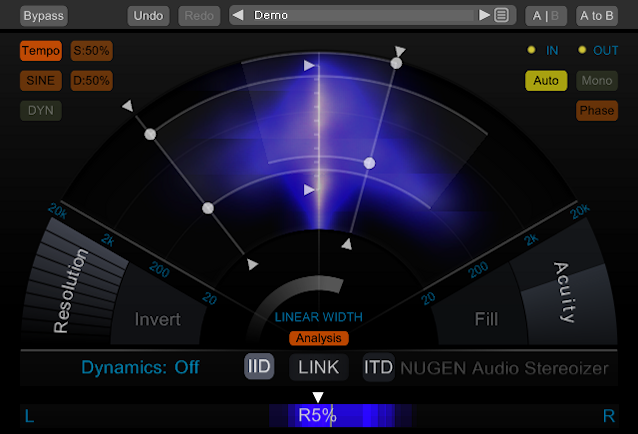 Powerful stereo enhancement

Stereoizer is a stereo widening plug-in with a clear difference - your mix will still sound great in mono. Add natural sounding width and depth to any recording, mono or stereo, leaving the character of the source intact – or go super wide – the choice is yours. 
Get a more coherent sound with polish and spatial balance without adding artificial reverb, chorusing or delay. Total mono compatibility with no unwanted artifacts.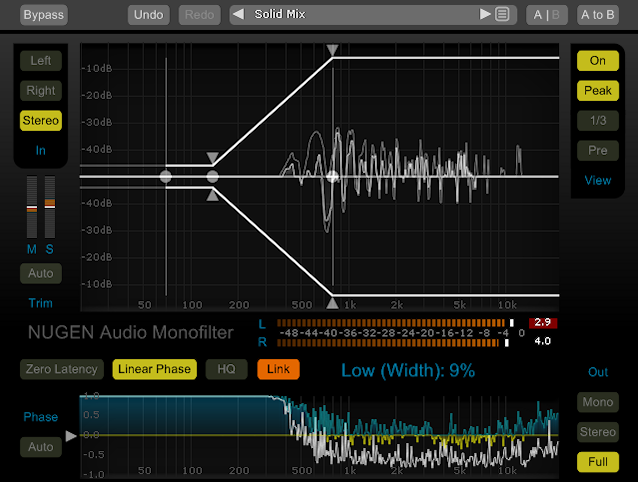 Essential bass management
Use Monofilter to grab hold of the bass and root it solidly within your mix to create a solid foundation. Sending low frequencies wide can muddy the bass, resulting in a weak, unfocused low end. Adding stereo FX or using multiple mic set-ups in the studio can introduce phase inconsistencies leading to 'weak', 'hollow' or 'flat' sounds. Now you can sharpen, define, align and anchor your bass for the tightest mix.
Quickly anchor the power, and retain the essential character and perceived spatial characteristics of the original sound. Align and balance low frequencies with minimum effort, for a louder and better defined mix. Improve performance on systems with separate low-frequency handling, such as club PAs, live rigs, HiFi, and 2.1 gaming systems. Monofilter anchors your bass with ease.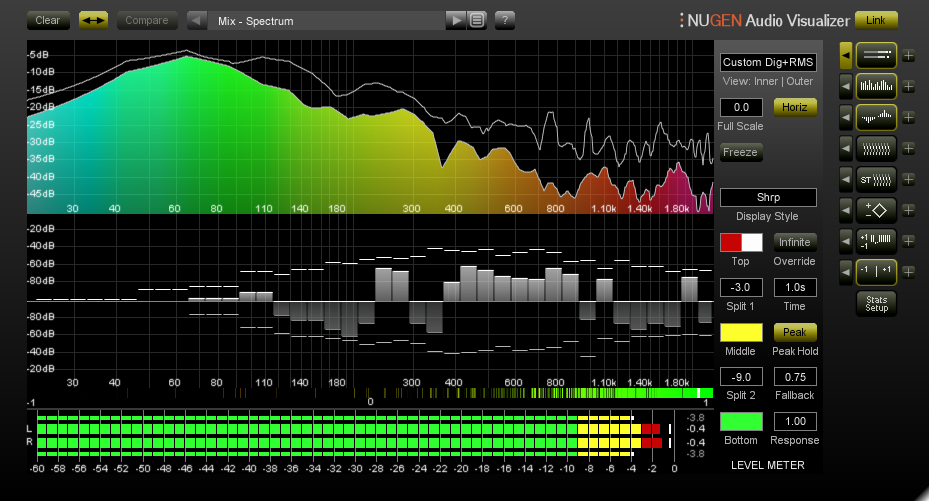 Measure, understand, correct
Visualizer gives you indispensable audio analysis for quality audio production, with a standardised reference set of professional tools which allows you to work faster, avoid mistakes and repeat past success.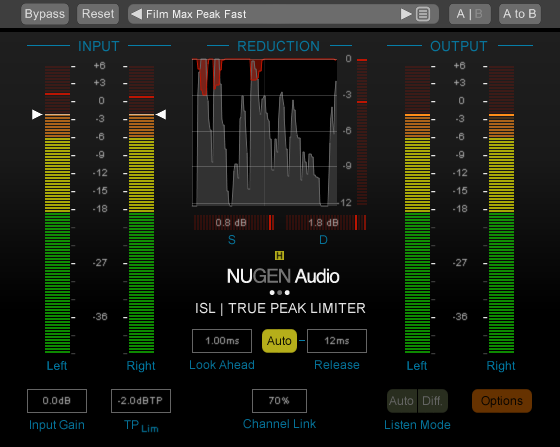 Let ISLst take care of your mastering for today's music delivery services (Apple Music, Spotify, Tidal etc.) The risk of distortion from down-stream codec conversion (mp3, AAC etc.) is eliminated with ISLst on the master bus.
Mix and master with confidence that your audio will be delivered the way you intend, without downstream distortions introduced by inter-sample clip reconstruction errors.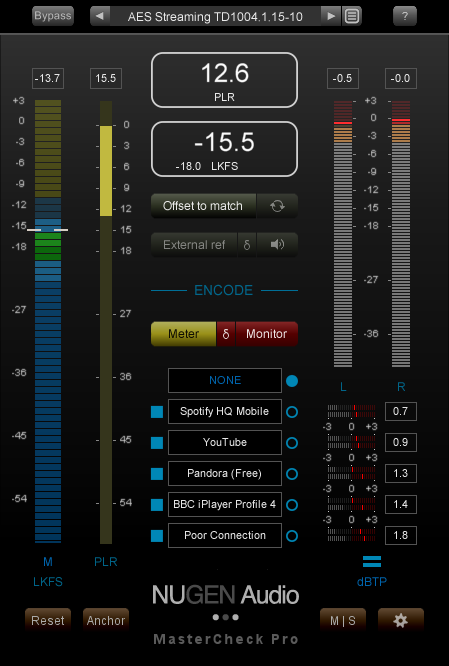 MasterCheck is the complete solution for optimising your mixes for today's music delivery services. Streaming apps, download stores, websites and podcasts all use data compression, loudness matching or both. These processes can affect your mixes in various undesirable ways: your loud punchy mix could end up quiet and flat, or suffer clipping or distortion.
The good news is you don't just have to mix for CD and hope for the best. MasterCheck reveals problems ahead of time, and enables you to deliver masters perfectly tuned for specific playout systems.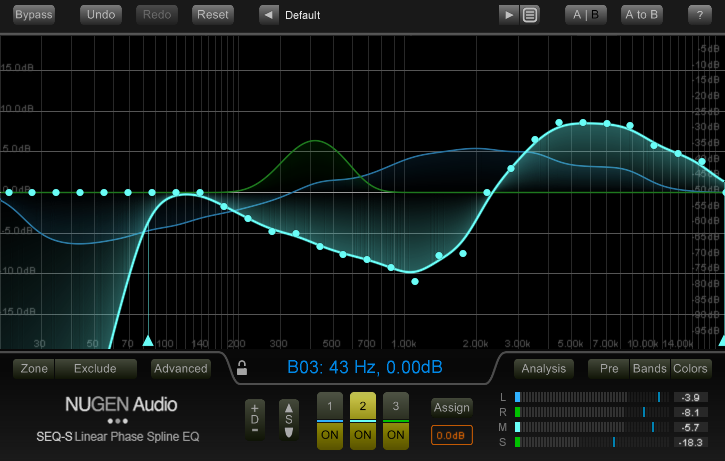 With SEQ-ST's three independent EQ transition pairs, including dynamic and static pass filter effects, seamless transitions from different environments, creative morphs and tempo-locked effects are easily achieved, with full dynamic visual feedback.
Beyond traditional EQ, you can also use SEQ-ST to capture the flavour of a piece of source audio and then transfer it to your current work – great for restoration and harmonisation work. Or use the same technique on individual tracks to unify different takes, microphone positions, and more.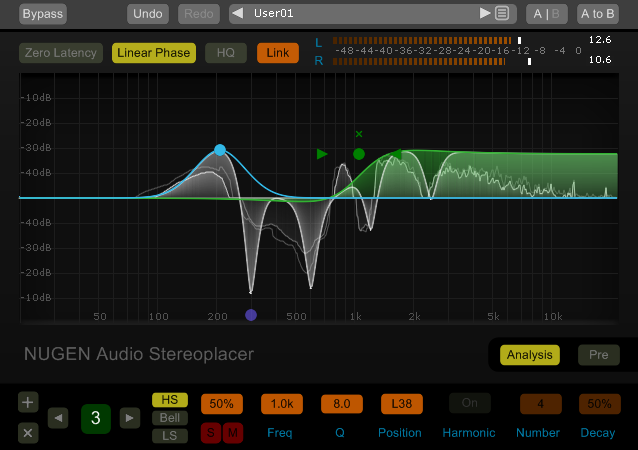 Stereoplacer is a plug-in with precise stereo-positioning control that takes you beyond the traditional mix setup. Focus in on the frequencies you want to move using the solo controls and then tweak, fix or align them in the stereo panorama without affecting any other regions - all with total mono compatibility. Reposition complex audio, reconstruct a mono image, or correct poor recording - mix with confidence. 
Fine-tune and get dynamic visual feedback with advanced parametric balancing controls. Just choose the position you want and let Stereoplacer take care of the rest.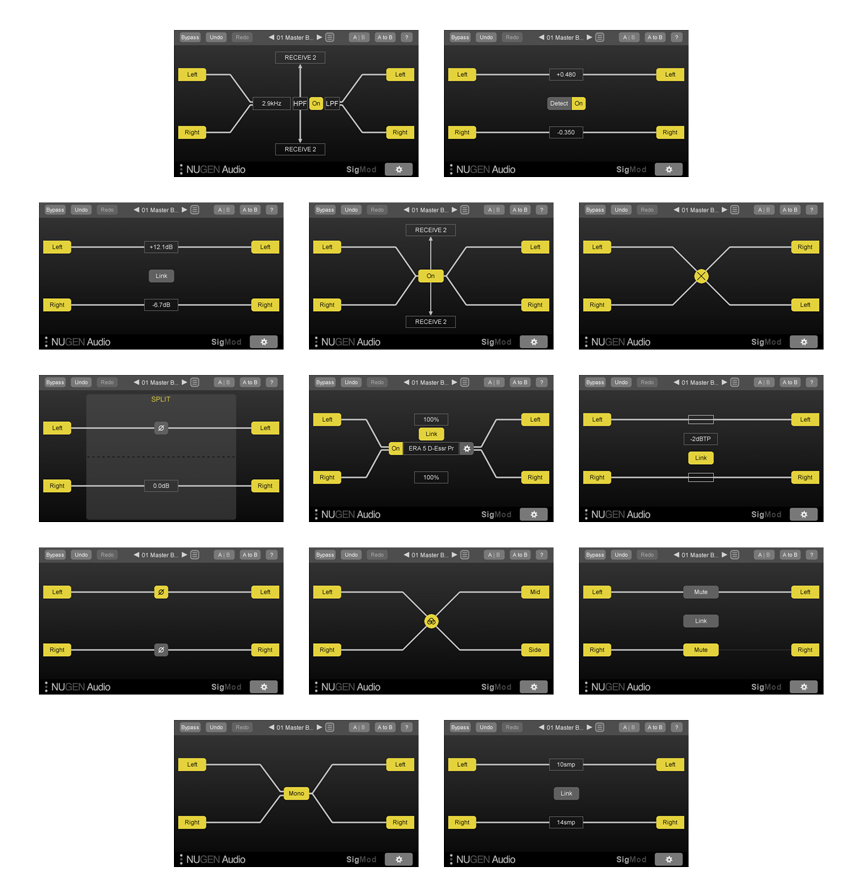 Customise your signal architecture
Instantly enhance the functionality of your plug-ins and DAW with SigMod's twelve signal modification units. Each module can easily be inserted, swapped and moved around making new options to correct, convert or tweak your audio. Access functionality which is either missing from certain DAWs, or at least complicated to access natively.
 Combine these single-process modules in any order to design the precise routing you require. Auto-resizing keeps the signal flow and functionality clear at all times.
There are countless ways NUGEN Producer can be used to improve your mix.
Try Monofilter to tighten up the low frequencies while retaining a full sense of space, Stereoizer to naturally widen sounds without upsetting the inherent balance, or SEQ-ST to transparently control your spatial environment with incredible resolution that you just can't get with a traditional parametric interface.
Visualizer offers detailed analysis of stereo placement, allowing you to easily identify problems which could then be fixed with Stereoplacer.
When mastering for digital music services, MasterCheck Pro is ideal for detecting potential codec distortion, which can then be eliminated with ISL on the master bus.
Bass management
Limiting for streaming
Checking cross-platform compatibility
Audio restoration
Detailed analysis of the stereo field
Analysing dynamics
We support AAX, VST3, AU and AudioSuite in 64-bit.
 NUGEN Audio is in the process of phasing out some older plug-in formats. Our most recently updated products no longer support 32-bit or RTAS/VST2.
Minimum System Requirements
Mac OSX 10.9 or above / 512 MB RAM
Windows XP or above / 512 MB RAM
Payment & Security
Your payment information is processed securely. We do not store credit card details nor have access to your credit card information.